Steak, Lobster, & Wine Pairings
Greystone Prime Steakhouse & Seafood is the only independently owned steakhouse in the Gaslamp and a local favorite for over 20 years. We appreciate and value our locals and we want to express our gratitude by offering a special local deal for the month of April. The menu includes tastes of butcher cut steaks, wild game and exotic cuts paired with 6oz wild cold water Australian lobster tail. Our in-house sommelier, has prepared three beautiful wine to pair with each cut of meat.
Come join us for this unique event at Greystone, only available for a limited time.
---
Greystone has been a landmark in the historic Gaslamp Quarter in Downtown San Diego for nearly 20 years, and was recently awarded as one of the top 10 Steakhouses in California. Our legendary menu offers USDA Prime steaks, a variety of specialty meats and exotic game, fresh seafood, classic and innovative side dishes, and features an international selection of hand-cut Wagyu beef, the ultimate delicacy
in steak.
The award-winning wine list at Greystone boasts some of the most exclusive and highly sought after wines from around the world as well as provides phenomenal value selections hand-picked to compliment our cuisine through each delectable course of your meal. The bar at Greystone Prime Steakhouse offers seasonal, specialty craft cocktails, and is well known as one of the most elegant happy hour meeting spots in the bustling downtown professional social scene. We offer three private dining rooms for your most special of occasion or important business meeting including The Wine Room, which is quite possibly the most highly coveted and sought after private party venue in San Diego. All of this combined with the very highest standards of service and hospitality have made Greystone the leading steakhouse in San Diego and a fine dining icon within the highly regarded San Diego restaurant industry.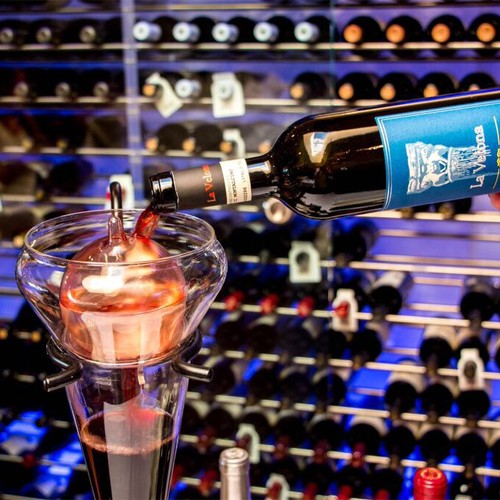 Greystone has a total seated dining capacity of 150 people. The restaurant and each of its different seating sections are available for either private or semi-private events. Audio visual requests are accommodated through-out the floor.
Upon dining, Valet Parking can be validated by Greystone.