Greystone Steakhouse Private Events
Step into the world of Greystone Steakhouse and be transported to an extraordinary culinary experience. Discover San Diego's finest dining experience, recognized for its exceptional service and award-winning wine list! Indulge in exquisite Wagyu beef from Miyazaki Prefecture alongside Chef Christopher Osborn's innovative creations that made him top chef in San Diego. With us you will enjoy an unparalleled night with unforgettable flavors – come treat yourself today!
Private Parties for Any Occasion
At Greystone Steak & Seafood, we take pride in offering you an unparalleled private dining experience that is tailor-made to suit your needs. Our mission is to create an intimate and memorable occasion that showcases the very best in classic steakhouse fare, accompanied by the finest selection of local and international wines, all served in a sophisticated and elegant setting. Whether you're celebrating a milestone, hosting a business dinner or simply enjoying a night out with friends, our private dining options guarantee a lasting and unforgettable experience.
Indulge in the extraordinary setting of our exclusive private dining room, designed to evoke a sense of warmth and intimacy, and comfortably seat up to twenty guests. Featuring a stunning centerpiece fireplace, rich mahogany finishes, and an old-world wine cellar ambiance, this exquisite space transports you to a time when fine dining meant attention to detail, impeccable service, and unrivaled culinary craftsmanship. Allow our skilled and passionate culinary team, led by our executive chef, to present you with a thoughtfully curated menu using only the highest quality ingredients, sourced from trusted purveyors and prepared with utmost care and precision.
Large Parties Welcome!
For those seeking a private dining experience for larger gatherings, our event planners have the expertise and knowledge to ensure that your event is flawless and every detail perfectly executed. We understand the importance of crafting a dining experience that truly reflects the essence of your occasion. Partnering with our event planners allows you to fully customize your menu, wine pairings, and even the decor, creating an event that is truly unique and bespoke.
As a classic steakhouse, Greystone takes pride in offering a wide range of top-tier cuts, from tender filet mignon to flavorful prime rib, and our renowned surf and turf combinations feature the freshest seafood selections for the perfect marriage of land and sea. To complement your meal, our sommelier carefully curates an extraordinary wine list, ensuring that each dish is paired with a harmonious and enhancing wine selection.
Experience the undeniable allure and charm of Greystone Steak & Seafoods' private dining offerings. Immerse yourself and your guests in a world of refined elegance and unparalleled service, where every detail is meticulously crafted, creating a dining experience that is truly a masterpiece – to be savored, remembered, and cherished.
Inquire
For any questions regarding large groups or to book an event please contact our Event Planner at (619) 300-7834.
Email events@sandiegodininggroup.com for more info or click the button below to make your reservation at Greystone Steakhouse.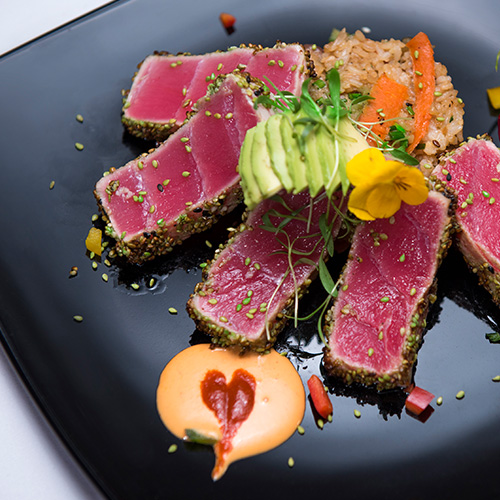 Venues & Capacities
Greystone offers a versatile and elegant dining experience with a total seated capacity of 150 guests, making it an ideal choice for gatherings of various sizes and occasions. The restaurant's layout is thoughtfully designed to accommodate both private and semi-private events, ensuring a memorable and exclusive atmosphere tailored to your needs.
The Cellar | Capacity of 18 Guests
Our completely private dining space features a fully functioning fireplace and is adorned with wall to wall wine cases, creating an elegant environment for your next intimate dinner. Guests are seated at one large rectangular table.
The Savoy | Capacity of 40-65 Guests
Our spacious and vibrant cocktail lounge has an upscale and modern atmosphere sure to impress your guests and get the evening started right.
The Roxy | Capacity of 55 Guests
Greystone's Semi-private lower dining room space comes with an exclusive view of our culinary open kitchen. With eight plush booths, this dining space can accommodate 6 to 14 guests. The Roxy can be arranged into large format tables or individual. Chef's table available for a party up to 12 guests by request. Open plan kitchen and dry-aging meat cabinet are some of the great features of this space.
The Diana | Capacity of 65 Guests
Greystone's balcony overlooking the entire restaurant makes up the single largest section of floor space with a seating capacity of 65 guests. This Diana level has its own fire place, floor to ceiling glass wine cases and is lined with ambient lighting. This space can be used for a reception style event or sit down dinner.
Patio | Capacity of 15 Guests
Parklet | Capacity of 40 Guests
Come enjoy our outdoor patio seating and enjoy the perfect weather San Diego has to offer! Our patio seats up to 15 guests, while our parklet can seat up to 40 guests! Looking for private outdoor dining? Reserve our parklet for your group only!
Full Venue Buyout
Two story seating. The Diana seats up to 65 guests along with 18 guests in The Cellar. The Roxy seats up to 55 along with 32 guests in The Savoy.
Do you have a private room? What is the capacity?
Yes we do. We have one fully private room. This room seats up to 18 guests.
I'm coming to celebrate my birthday/graduation/bachelor party, what kind of special occasions packages do you offer?
We offer several packages for special occasions! We have bachelor and bachelorette packages, anniversary packages, and birthday packages. Just give us a call and let us know which one you are celebrating!